If you or someone you know is struggling or in crisis, help is available. Call or text 988 or chat 988lifeline.org 2nd Floor Youth Helpline : CALL
888-222-2228
or TEXT
908-280-0235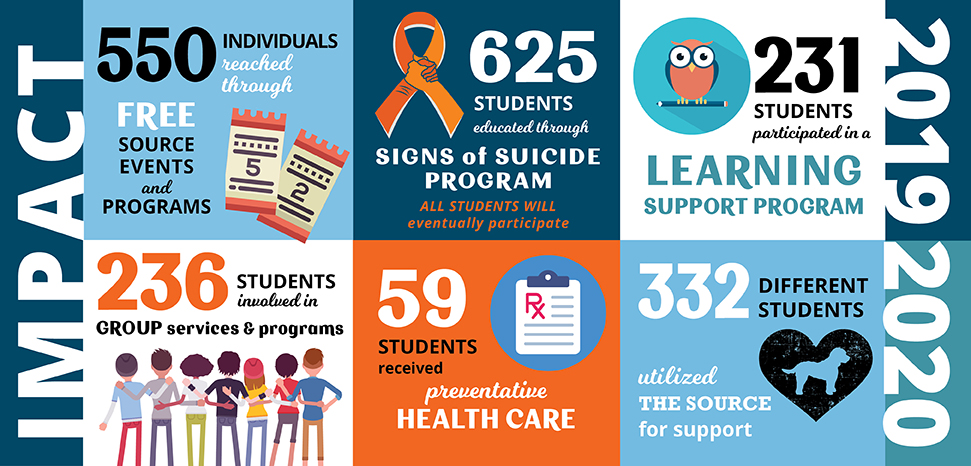 The SOURCE is committed to supporting the mental health, well-being, and educational success of all students. We build public and private partnerships to ensure quality services that are effective, culturally appropriate and responsive to the diverse, changing needs of students and their communities.
The Source has been part of RBRHS for 24 years. It is a School-Based Youth Services Program (SBYSP). We fulfill our mission through best practices in comprehensive counseling services, prevention programming, advocacy, academic support, employment services, family engagement, basic need fulfillment, free public education/forums and collaboration with community partners. All Source programs are free.
If you are interested in joining the Foundation or the Source Advisory Board please contact Suzanne Keller 732-842-8000 Ext. 1-236 or skeller@rbrhs.org The Foundation meets in person or virtually every 3rd Tuesday of the month.
FOUNDATION BOARD MEMBERS
Lori Lopez, President
Joanna Mozino, Secretary/Treasurer
Emily Doherty, RBRHS Board of Ed Liaison
Jill Burden
Jennifer Gilmartin
Lynee Lopez
Rosaleen Perry
Stacy Poliner
Victoria Rogers
REGISTRATION AND CONSENT FORMS CAN BE FOUND HERE. ENGLISH SPANISH
Your support is critical to sustain this model of hope, empowerment and success.
Click to listen to Ms. Keller and Ms. Liss on Rumblings_from_a_Rambler podcast!
The SOURCE is available to all RBR students and their families. Parental consent is required.
We are in RBR, located behind the pit and next to the cafeteria.
The SOURCE is open Monday through Friday, 7:30am-3:30pm when school is in session.
All our services are free of charge to RBR students and their families.
Our staff will not disclose information to anyone without a student's consent; except in the case of an emergency.
Our staff works closely with guidance counselors, teachers, and the child study team to help students to develop academic strategies for success. Sharing and solving problems and worries can help grades improve too.
Students can participate in recreational activities that are designed to enlighten, excite, and entertain them. Activities range from trips to Fright Fest at Great Adventure to New Jersey Nets basketball games and Broadway Shows.
We can connect students with free confidential services in the community who can provide a range of services including; preventative medical and dental care, and reproductive health.
We are required to have a Source consent form to meet with a student regularly. Consent must be provided parent/guardian by the second appointment.